How do I Make My BackYard Beautiful With Composite Decking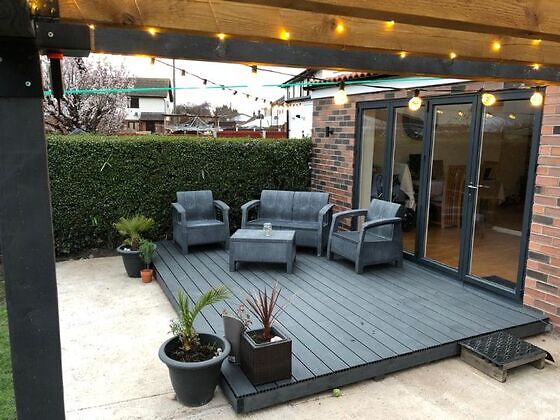 Composite decking is a beautiful decking material. Many homeowners have used Ultradecking composite decking to enhance the appearance of their homes. If you like to make your house look beautiful, you should also use composite decking material. This writing will guide you on making your backyard beautiful with composite decking.
Ways to Make Your Backyard Beautiful With Composite Decking
Create a Living Space
One way to make your backyard beautiful with composite decking is by creating a living space. Homeowners can beautify their backyard by creating a living space with decking boards. Having a living space outdoors will make your house look more attractive. You can use the composite boards to build a ground level or raised decking in your backyard.
 Create a living space with composite decking by building a deck area. Ensure you choose a decking colour that will complement your house design. You can also add a couch and other accessories to your deck to make your outdoor space look inviting.
Build an Outdoor Kitchen
Homeowners can also make their backyard beautiful with composite decking by building an outdoor kitchen. Composite boards are great for creating a cooking space outdoors. You can even lay the decking board yourself and use the area as an outdoor kitchen. A good thing about composite boards is that it is easy to clean when there is a stain on them. If you notice oil or food stains on your composite decking, clean the surface with soapy water.
Install Composite Decking Around Your Pool
If you have a swimming pool in your backyard, you can use composite boards to make your pool area more beautiful. Lay composite decking around your swimming pool to make your backyard beautiful. Newer generation composite decking has anti-slip properties that prevent the decking from slipping. Homeowners should also ensure to use capped composite decking around their pool area because capped decking has an extra plastic coating that prevents the board from absorbing water. So, your composite decking will not get damaged when you install it close to your pool.
Build a Multi-Colour Decking
A multi-colour composite decking can make your backyard beautiful. Homeowners who wish to enhance the appearance of their home should consider installing a multi-coloured decking system in their backyard. Composite decking boards come in various colours like brown, charcoal, chocolate, grey, and silver. You can use two or three of these colours to build a multi-coloured decking. You can mix lighter and darker colours to create a contrast. 
Create a Walkway 
Homeowners can make their backyard beautiful by using composite decking to create a walkway or path. Use the board to build a beautiful pathway. You can even use boards of different colours to make your pathway more beautiful. Besides being a beautiful material, composite decking is also durable and long-lasting. Composite decking is resistant to the weather element; it will not warp or absorb moisture. Also, composite decking will not splinter like wood. So, you can walk on your composite walkway with it splintering.
Install a Composite Fence
Installing a composite fence in your backyard will enhance its looks. Composite fences also come in different colours like grey, brown and black. A good thing about a composite fence is that it is easy to maintain. The colour does not fade like wood, making your backyard stay beautiful for a long time. You don't need to bother about painting or staining a composite fence.
Create a Seating Area 
A seating area in your backyard will make it more beautiful. Moreso, you will be motivated to spend more time in your backyard if there's a place for you to sit. Homeowners can create a seating area in their backyard with leftover composite decking. Using a composite board to build a seat in your backyard is also economical as you don't need to paint it like wood. Composite decking is also durable, thereby making your outdoor furniture last longer than wood. 
Conclusion
There are different ways homeowners can make their backyard beautiful with composite decking. They can create a living space with the decking, build a walkway, an outdoor kitchen and a seating area. In addition, homeowners can also install a composite fence in their backyard.