Composite Deck Board – Teak – Mixed Colour
Collection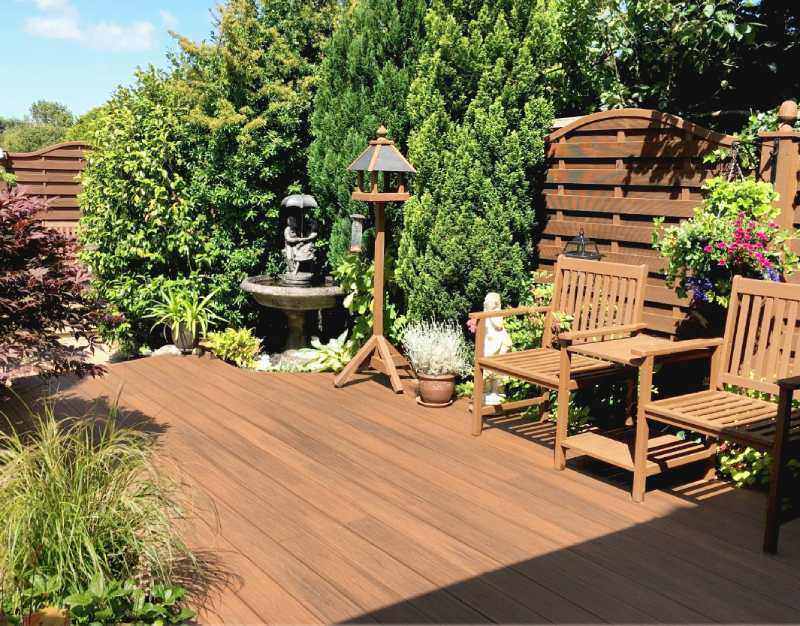 Per M2 £54.03 Price Including VAT
Selling Fast! Call for 3 to 5 Days Delivery*
Order in 5 Hours to get delivery within 10 – 14 days
Key features
All signature Teak Composite decking boards come with a 25-year guarantee

Every Teak Composite decking board is designed to offer resistance to stain and colour fade **.

Two Great Looks: The opposite side of each Ultra Decking signature Teak composite decking board has a choice of different finishes. Your preferred look could be a natural wood grain or indoor smooth effect. It's your choice.
Description
Composite Decking Board – Teak Composite Decking by Ultra Decking – 3.6m x 138mm x 22mm. 25-year limited warranty. Reversible realistic woodgrain finish. Rated by our customers as the most realistic wood look with its light brown surface texture. The Teak Composite decking board is described by our customers as like no other on the market with its mix of colours that bring out the natural wood imperfections to life.
Ultra Decking's Signature Teak composite decking Boards offer the most realistic wood grain look and finish in the industry
Ultra Decking's Signature Teak composite decking Boards are coated with patented shielded (co-extrusion) technology to provide additional stain and fade resistance to Mother Nature's harshest elements.
All Ultra Decking Signature Composite Decking Boards offer slip resistant protection
Two fantastic colours on one board. Teak or Chocolate finish. It's your choice.
A grooved hidden fastener system
A unique tough shielded outer shell will keep the colour and beauty of your deck for many years to come
Easy to clean with little or no maintenance
Ultra Decking recommends ordering samples to view and feel the quality of their boards.
We highly suggest you order samples before you order as colour settings on the PC screen can be different for everyone